Larry Adams have been providing parents and children across Merseyside with quality school clothes for over 35 years.
Catering for complete school uniforms, including ties, badges, accessories and much more, our friendly team of staff are on hand to make sure your child is all kitted out for going back to school.
With a wide selection of school uniforms to choose from, make sure you visit us in store today.
We are the authorised stockist of uniform for the following schools: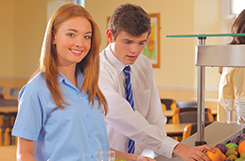 Wirral School Uniform Shop
Yes, we've mentioned above that we cover a number of schools across the Wirral. However, we don't just offer branded uniform for the above schools. As part of our supplier network, we also offer a large range of unbranded uniform. We cover all the essential uniform items that don't carry badges. We understand that not all uniform must carry a school badge.
So what other uniform items do we stock? If your child attends any school across the UK, we stock items that can help you get the best value school uniform. Our generic school uniform covers everything from shirts in multiple colours, pants, skirts, jumpers and blazers. We also have a selection of items to keep your children stocked for the year. Looking for bobbles, water bottles or even name labels? Look no further, we have it all.